About the Bowery Boys NYC History Podcast
The Bowery Boys are Greg Young and Tom Meyers. They've been recording the Bowery Boys Podcast since 2007. As of September 2018, there are more than 270 episodes available as a free download through iTunes and many other podcast streaming services. (Read more about how to listen to the show on the show's website.)
About Bowery Boys Walks
Greg and Tom started Bowery Boys Walks in late 2018 to get fans of New York City history even closer to the stories and characters who have shaped the city. They're working with professional tour guides to construct walks around many of their most popular podcast episodes. (Read more about the tours.)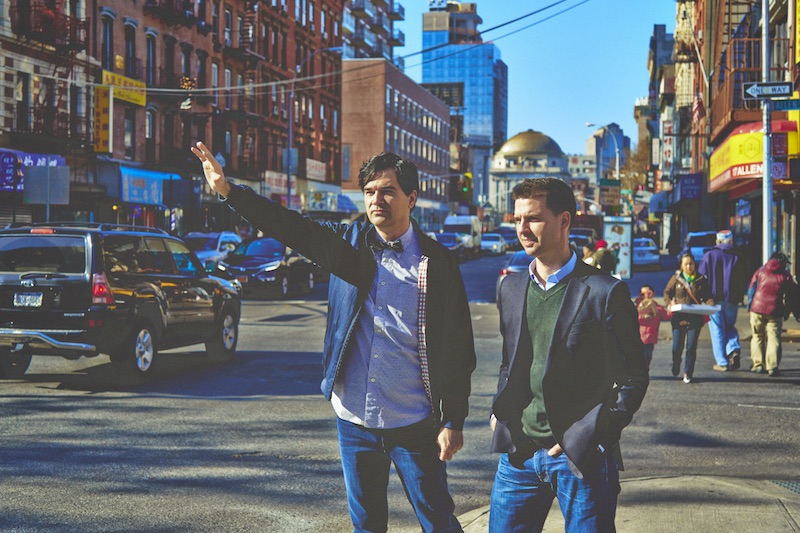 Meet the Team
We're passionate about bringing New York's colorful characters to life. Want to join us by leading a tour? Send us an email!
Greg Young
Greg is the lovechild of Charles Nelson Reilly and Jo Anne Worley. (Or so he claims.)
Emma Guest-Consales
Tom Meyers
Tom loves dusty archives, old-school diners, and cringe-worthy puns.
Carl Raymond
Jeff Dobbins
Jeff is a fanatic for global travel, good theater, grand opera, and soft cheese.
Join us in the streets!
Our tour book platform will go live the week of October 24, 2018. Sign up to be the first to know when tickets are on sale.
Book online now!