Jeff Dobbins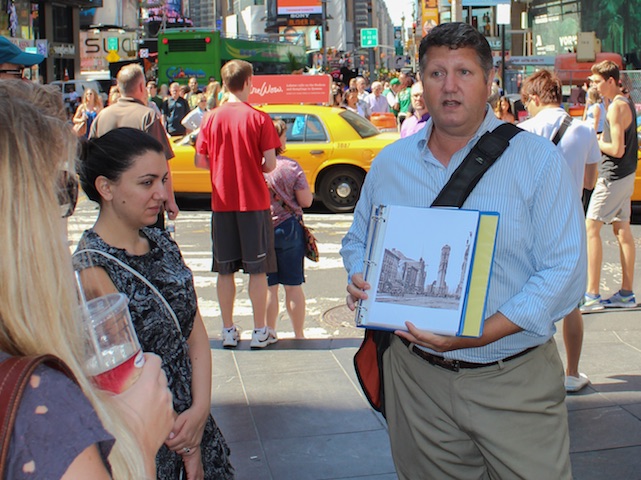 Tour:
"Legends and Landmarks of Broadway Tour"
Jeff Dobbins is a tour guide and writer. Jeff has a decades-long career in New York's theater industry, working as a performer, writer, press representative for Broadway shows and manager of a Broadway Theater. He wrote five seasons of the Drama Desk Awards, collaborating with theater luminaries including Patti LuPone, Lily Tomlin, John Lithgow, Chita Rivera, Bernadette Peters, and Harvey Fierstein. Jeff has also written over 150 articles about NYC history and culture and created numerous specialized tours of the city.
---
Emma Guest-Consales
Tour:
"Cast-Iron Architecture Tour of Ladies' Mile"
"Central Park History and Landscape Tour"
Emma Guest-Consales, Ph.D. is an experienced guide, lecturer, and author who has taught art and architectural history in New York City for more than fifteen years. Emma holds a doctorate degree in Italian Renaissance art, and has taught classes on the history, art, and architecture of New York City. Currently a resident of New Jersey, she lived in Manhattan for seven years, and continues to work in and around New York City.
Her tours specialize in the history of the architecture and urban design of the city, from its Dutch roots to the developments of today. She is an official New York City Tour Guide with a license from the New York City Department of Consumer Affairs, and Vice President of the Guides Association of New York City.
---
Carl Raymond
Tours:
"Edith Wharton's New York Tour"
"Hidden Histories of Greenwich Village" Tour
Carl Raymond is a licensed New York City tour guide, writer, lecturer, museum educator and food historian.  Passionate about New York City history, he has worked at the Merchant's House Museum and King Manor Museum in education and marketing.  He speaks regularly on food and New York City history for organizations such as the Royal Oak Foundation, the Metropolitan Opera Guild, the National Arts Club and the English Speaking Union. He was a contributing writer on SAVORING GOTHAM: A Food Lover's Companion to New York City (Oxford University Press) and is at work on his own book, a culinary history of the Gilded Age.   www.carltalksandtours.com