"Legends & Landmarks of Broadway" Tour
Book online now!
On this walking tour, we take Bowery Boys' podcasts to the streets, visiting sites where history was made. Developed by the Bowery Boys and your guide Jeff, a Broadway insider, the tour traces the history of the Broadway theater while exploring NYC's famed Theater District.
We'll visit landmark theaters where celebrated shows and performers have played, as well as theatrical haunts like Sardi's, Shubert Alley, and Duffy Square. You'll hear colorful stories of Broadway's legendary stars, producers, and shows – even thespians who return to the limelight from beyond the grave. Along the way, your guide will share information about the Broadway industry and the rise, fall, and renaissance of the Great White Way.
This walking tour is ideal for fans of theater and NYC history, allowing a glimpse behind the curtain of the Broadway scene.
Tour Highlights:
Times Square, the "Crossroads of the World" and home to NYC's Theater District
Broadway's landmarked theaters, where legendary shows have played.
The former home of the Ziegfeld Follies
Sardi's Restaurant – a Broadway institution
Shubert Alley, long-time town square of the Broadway community
Rodgers & Hammerstein Way
Broadway's most haunted theater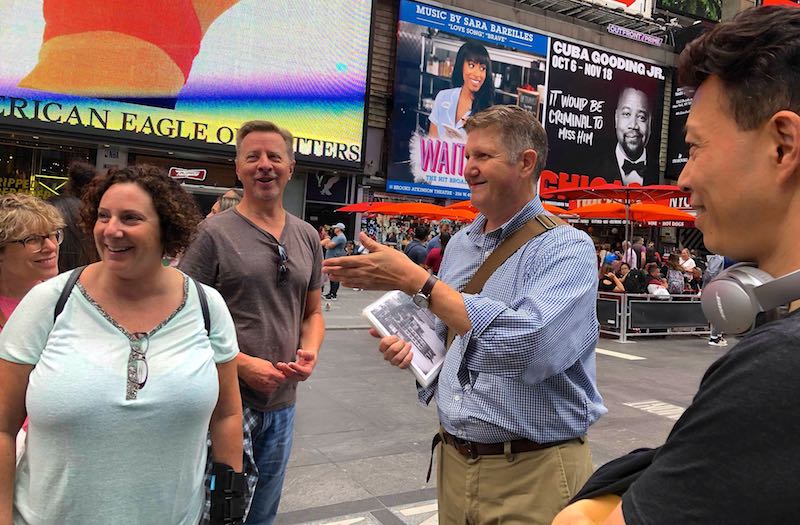 Looking to study up before the tour?
Check out our podcasts on Rodgers & Hammerstein, Florenz Ziegfeld, and Times Square in the '70s.
Tour Details:
Weather: The walking tour runs rain or shine.
Tour duration: 2 hours
Walking: Approx. 1 mile